The 3.7 Meter C-band Earth Station Antenna provides high gain and exceptional characteristics. Our Earth Station Antenna (ESA) systems are available for a wide range of applications in broadcasting and telecommunication. This ESA provides our clients supreme flexibility and electrical performance, cost-effective and reliable packages. All panels are pre-mounted on frames for easy installation.
The antenna can be configured according to your wishes with the choice of linearly- or circularly – polarized 2- or 4- port combining networks. As your satellite communication requirements develop, adaptability is provided at the moment of purchase as well as in the future.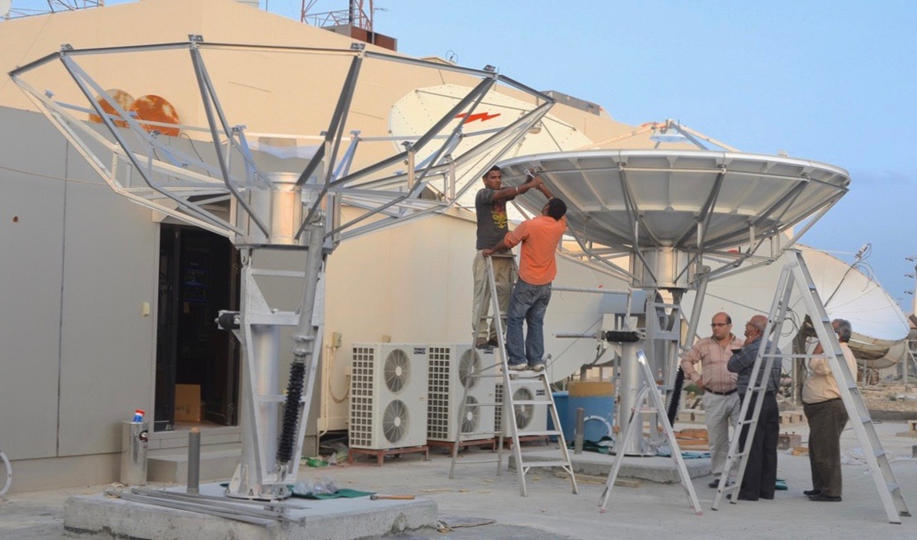 Key Features
Self-aligning main reflector – no optical field alignment
5 years warranty on all structural components
Available Options
4 – port configuration
Motorization
Reflector and feed de-icing systems
Non – penetrating mount
Specifications
Electrical

Type
ANT 370 C-2
Band
C-band
Receive
Transmit
Operating frequency, GHz
3.4 ~ 4.2
5.85 ~ 6.725
Gain, Mid-band, dBi
42.2
45.4
Polarization
Linear or Circular (indicate on order)
XPD (on Axis), dB
35
35
XPD across 1 dB Beam Width, dB
33
33
Axial Ratio (Circular-Polarized)
VSWR
1.25
1.25
Antenna Noise Temperature
10° Elevation
30° Elevation
50° Elevation
35K
29K
25K
-3dB Team Width, Mid-band
1.25°
0.82°
Typical G/T (El>10°)
24dB/K (30°LNA)
Tx. Power Capability, kW
2
Feed Interface
CPR-229G
CPR-137G
Feed Insertion Loss
0.25
0.2
Isolation, Tx to Rx, dB
90
First Sidelobe
-14
90% Peaks under Following Envelop
29 – 25 logΘ (1°≤ Θ < 20°)
Mechanical

Antenna Diameter
3.7m
Antenna Type
Ring Focus
Mount Type
El. over Az.
Surface Accuracy (RMS)
≤ 0.5 mm
Antenna Pointing Range
Azimuth
Elevation
Polarization
±90°, ±60° (Continuous)
0° ~ 90° (Continuous)
180° (Continuous)
Drive Mode
Manual or Motorized
Motor Drive System
Azimuth Travel Rate
Elevation Travel Rate
Polarization
0.3°/s
0.2°/s
1°/s
Environmental

Operational Wind
72 km/h Gusting to 97 km/h
Survival Wind
216 km/h
Temperature
-40° ~ 65°C
Relative Humidity
100%
Solar Radiation
1135Kcal/h/m²
Seismic (Survival)
0.3g (H), 0.15g (V)
Ice Loading
13 mm Operational; 25 mm Survival
---
Request a quote
Fill in this form to request more information about our products and services.